News
Tips and appetising meal ideas for a self-catering holiday
Fri, 28 Apr 2023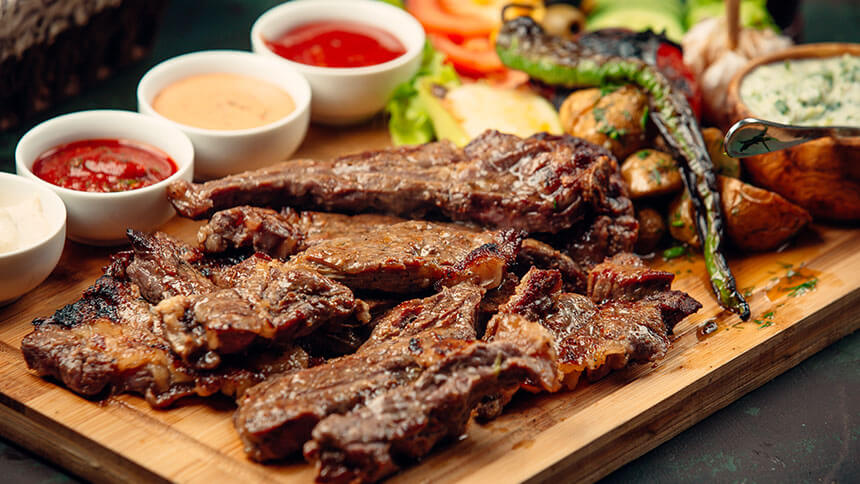 Self-catering holidays are the perfect choice for people who love the freedom of preparing their own meals. Not only does it give you more control over your meals, but it also saves you money on expensive restaurant bills.
While holidays are meant to be a relaxing time, the last thing you want is to be spending all your time in the kitchen. We've compiled some useful tips and meal ideas to help you savour "home-cooked" meals and make the most of your time exploring the beautiful Entabeni Conservancy in Limpopo.
Make a list
Make a list of the items you already have at home that you'll need to take with you on holiday. These items include daily use items such as spices, condiments, long-life milk, margarine, coffee, and tea (among others).
It's also important to remember that your eating habits may change during your holiday, which means that you might not need to pack as much rice or potatoes as you initially thought.
Plan your meals
Planning your meals in advance can make your self-catering holiday more enjoyable. Begin by creating a basic meal schedule that will help you save time and effort. Although you may not follow it precisely, having a list will help you avoid packing unnecessary ingredients.
Cook and freeze
A great way to spend less time in the kitchen during your holiday is to cook and freeze a few of your family's favourite meals before leaving for your trip. This way, you can easily reheat them after a long day of sightseeing or exploring the area, when you don't feel like cooking from scratch.
Get the kids involved
You can let the kids take charge of dinner for a couple of nights with fun options like hot dogs or burgers. They could also create a "build your own meal" table spread where everyone can customise their meal to their liking.
Appetising self-catering meal ideas
Having an idea of what to eat beforehand can save you time and make meal planning easier. Use these meal ideas as inspiration to create easy and delicious, self-catered meals during your holiday.
Breakfast buffet: Set up a breakfast buffet with options such as pancakes, waffles, scrambled eggs, sausage, fresh fruit, yogurt, and a variety of spreads like peanut butter, Nutella, and jam. It's a great way to start the day and fuel up for a day of holiday adventures.
Braai: No holiday is complete without a traditional South African braai! Marinate meat of your choosing in BBQ sauce and then grill them to perfection on the Braai facilities available at our resort. Serve with coleslaw, baked beans, and pap for a flavourful and easy self-catered meal.
Ready-made frikkadel (meatballs): To make meal-prepping easier, consider adding frikkadel to your tomato gravy for quick and easy spaghetti and meatballs. Cooking and freezing the tomato gravy before your trip can also save you time during your holiday.
Easy couscous: Whether you're using ready-to-eat couscous or prefer to prepare it yourself, couscous is one of the easiest ingredients to prepare. Serve as a side dish or add vegetables and feta cheese to create a tasty salad.
Tacos: Set up a taco bar with cooked and seasoned beef or shredded chicken, and tortillas and let your family build their own tacos according to their preferences. Add a variety of toppings such as cheese, lettuce, tomatoes, onions, and salsa for even more flavour.
Stir-fry: Prepare a selection of diced vegetables, such as bell peppers, carrots, and broccoli, along with your choice of protein, such as chicken, beef, or tofu. Stir-fry all the ingredients in a large pan with soya or teriyaki sauce for a quick and easy meal.
Pasta bar: Cook up a big pot of pasta, such as spaghetti or penne. Infuse the pasta with your choice of sauces such as marinara, alfredo, or pesto. Add more flavour with various toppings such as grated cheese, chopped fresh herbs, and fried meatballs or sausage.
Loaded baked potatoes: Bake a batch of potatoes and set up a loaded baked potato bar with tasty toppings such as sour cream, shredded cheese, chives, and chopped veggies. Let everyone build their own loaded potato to their liking.
DIY pizza: Prepare pizza dough and set up a pizza station with a variety of toppings, such as cheese, several meat options of your choice, mushrooms, peppers, and onions. Let everyone create their own custom pizzas and then bake them in the oven or on a grill.
Sosaties (Kebabs): Sosaties are a South African meat dish cooked on skewers. Marinate the meat (and even freeze at home before your trip) with a variety of vegetables. Soak the wooden skewers in water to prevent them from burning, then thread the meat and veggies onto the skewers and grill them on the Braai until cooked through and charred.
In conclusion, self-catering holidays offer the freedom of preparing your own meals and can save you time and money. With a little planning and creativity, it's easy to enjoy scrumptious home-cooked meals during your holiday without spending too much time in the kitchen.